2016-05-28
Posted by Admin
#bunny #bento #kidslunchforadults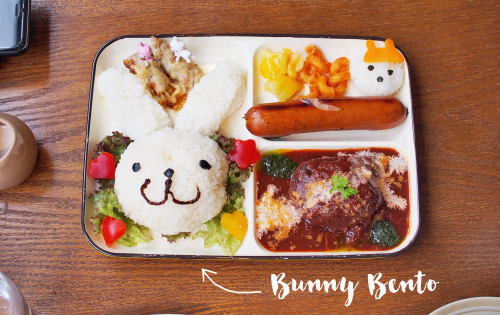 Children's Lunch for Adults!
There's an over-the-top cutesy cafe in Tokyo called Nicolas Charles Cafe (official home page) that serves rabbit shaped desserts. From top to bottom, everything at the cafe has is bunny-themed and when customers step through the entrance they are presented with a pair of wearable bunny ears to top it all off.
The cafe is famous for its rabbit cream puffs, but that's not all they have on offer. Their lunch plate looks like something you would expect to see on a kids menu, but infact, it is a hearty feast of meat and salad accompanied by a happy-go-lucky bunny rabbit made out of rice. This so-called "Children's Lunch for Adults" is what I came for and I was not dissapointed! Nicolas' Japanese is also very impressive! As a Japanese tutor I wish my students can be so successful! If you get a chance to check out Nicolas Charles when you are in Japan then definitely go!